Does your corporation (or should your corporation) send legislative action alerts to its employees? Is there an ongoing need to educate, nurture, and engage your employees on policy issues? Do you have unique legislative goals that are not fully addressed by your membership in trade associations?
If so, OneClickPolitics is an excellent partner. We offer full-service technology and consulting solutions for established corporations including Davita and AdvoCare.
---
Corporations Features and Services
Want to know which of your employees and other stakeholders are interested in participating in advocacy campaigns? Want to limit campaign participation to key executives or PAC-eligible employees? Not sure if you want to extend participation to consumers or other stakeholders? No problem, we'll conduct online (and offline) interviews with your stakeholders to help you determine the best ways to engage your supporters.
We will build your advocacy microsite, create infographics, draft copy for action alerts, manage advocate lists, setup campaigns, acquire new advocates, and manage your grassroots campaign strategy, implementation, and execution based on your input and feedback.
Your data is safe is with us. It is your property... period... end of discussion. OneClickPolitics does not share, aggregate, sell, rent, maintain, or otherwise use your data for any purpose. Unlike some vendors, we do not benchmark your success against other organizations and risk exposing your private data. We maintain a strict privacy policy and we treat your data like it was locked in a Swiss bank.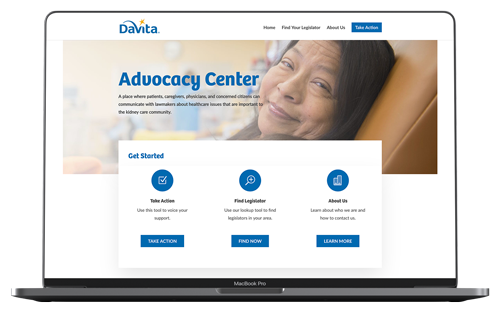 View Live Site