OneClickPolitics powers the advocacy efforts of some of the world's leading member and trade associations including: Computing Technology Industry Association, International Association of Amusement Parks and Attractions, International Premium Cigar and Pipe Retailers Association, Medical Product Liability Association, and the National Rifle Association.
---
Association-Specific Features and Services
Tired of the same three or four templates and widgets available through your current vendor? Let the OneClickPolitics team create a custom advocacy portal with highly engaging and unique content tailored to your organization.
OneClickPolitics integrates with Imis, Nimble, Salesforce, Nationbuilder and other leading association management systems to help support a unified approach to cross-departmental data storage and information sharing.
OneClickPolitics provides sub-accounts for your state and local affiliate chapters that allow them independent access to our platform, while providing for customized data sharing and analytics.
Copywriting for Action Alerts, Legislative Research, Messaging, Audience Segmentation, Targeting, and Strategy.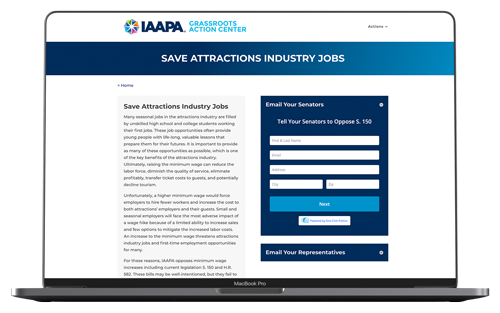 View Live Site
"OneClickPolitics is more than effective advocacy software; they helped us design a custom digital presence and strategy to help educate, engage, and nurture relationships with thousands of attraction industry employees and consumers. The creative efforts of the OneClickPolitics consulting team, who assisted us with copywriting, creative, and digital strategies, led to sustained advocate engagement and increased effectiveness in mobilizing our stakeholders."
---
Erika Scheffer, Director State Advocacy, International Association of Amusement Parks and Attractions